रोजाना कुछ देर के लिए गायब हो जाता है यह शिव मंदिर, जानिए क्या है राज
Architecture of the temple:- The temple is just about 2000 ft long and 500 ft height.
Best time to visit: – March to July
Temple Timing: – The Early morning Arati 6:45 am and Evening arati 7:10 pm
Other Attraction Near temple: – The Tourist Attraction here namely, Khodiyar Mata Rajpara is near Bhavnagar city, Gopnath Mahadev temple is near Talaja taluka, Uncha Kotda Chamunda Mata is nearMahuva city and Bagdana Bapa Bajrangdasji Maharaj Temple
दुनियाभर में बहुत से ऐसे प्राचीन मंदिर हैं जो अपने आप में ही पूरे विश्व में एक अद्भुत छवि बनाये हुए हैं। वैसे तो दुनिया में भगवान शिव के कई मंदिर हैं, लेकिन गुजरात के वडोदरा से 85 किमी दूर स्थित जंबूसर तहसील के कावी-कंबोई गांव का यह मंदिर अपनी एक अलग ही विशेषता के कारण प्रसिद्ध है। आइए बताते है आपको क्यों प्रसिद्द है यह मंदिर।
गायब हो जाता है ये मंदिर
आप यह सुनकर भले ही चौंक जाए लेकिन यह सच है कि एक शिव मंदिर रोजाना थोड़ी देर के लिए पूरी तरह से गायब हो जाता है। उस दौरान मंदिर की जगह कुछ नहीं दिखता और पूजा करने वाले श्रद्धालुओं को मंदिर के वापस आने तक इंतजार करना पड़ता है।
दरअसल स्तंभेश्वर नाम का यह मंदिर दिन में दो बार सुबह और शाम को पल भर के लिए आपकी आंखों से ओझल हो जाता है और कुछ देर बाद उसी जगह पर वापस भी आ जाता है। आपको बताते हैं आखिर इसका कारण क्या है। दरअसल ऐसा ज्वारभाटा उठने के कारण होता है। इसके चलते आप मंदिर के शिवलिंग के दर्शन तभी कर सकते हैं, जब समुद्र में ज्वार कम हो।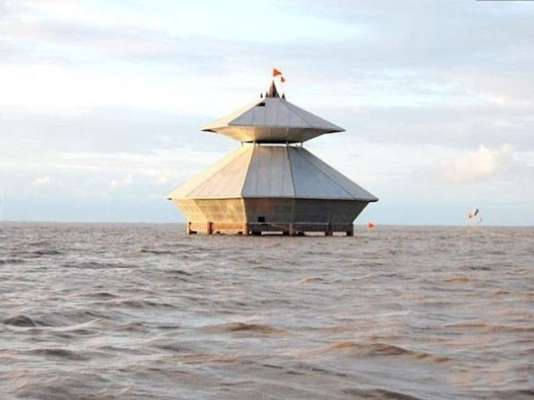 जब जलमग्न हो जाता है शिवलिंग
ज्वार के समय शिवलिंग पूरी तरह से जलमग्न हो जाता है और मंदिर तक कोई नहीं पहुंच सकता। यह प्रक्रिया सदियों से चली आ रही है। यह मंदिर अरब सागर के बीच कैम्बे तट पर स्थित है। इस तीर्थ का उल्लेख 'श्री महाशिवपुराण' में रुद्र संहिता, स्कंध पुराण, कुमारिका खण्ड में मिलता है।
बहुत साल पहले हुई थी इस मंदिर की खोज
इस मंदिर की खोज लगभग 150 साल पहले हुई। मंदिर में स्थित शिवलिंग का आकार 4 फुट ऊंचा और दो फुट के व्यास वाला है। इस प्राचीन मंदिर के पीछे अरब सागर का सुंदर नजारा दिखाई पड़ता है।
शिवपुराण में भी है उल्लेख
हम बात कर रहे हैं गुजरात के स्तंभेश्वर महादेव मंदिर की, जो रोजाना दिन में दो बार (सुबह और शाम) को कुछ देर के लिए आंखों से ओझल हो जाता है। यह मंदिर गुजरात में बड़ोदरा से 40 मील की दूरी पर अरब सागर के कैम्बे तट पर स्थित है। इस तीर्थस्थल का उल्लेख 'श्री महाशिवपुराण' में रुद्र संहिता भाग-2, अध्याय 11 में भी किया गया है। मंदिर की खोज आज से लगभग 150 वर्ष पूर्व की हुई थी। मंदिर में विराजमान शिवलिंग लगभग 4 फुट ऊंचा तथा दो फुट के व्यास का है। मंदिर को देखते समय उसके पीछे अरब सागर का विहंगम दृश्य दिखाई देता है।
इसलिए गायब होता है मंदिर
समुद्र किनारे होने के कारण जब भी समुद्र में ज्वार आता है, यह मंदिर पूरी तरह से पानी में डूब जाता है। ज्वार के उतरते ही मंदिर पुनः दिखाई देने लगता है। स्तंभेश्वर महादेव मंदिर जाने वाले भक्तजनों के लिए विशेष रूप से पर्चे भी बांटे जाते हैं जिनमें ज्वार आने का समय लिखा होता है ताकि श्रद्धालुओं को अनावश्यक परेशानियों का सामना नहीं करना पड़े। मंदिर के पुजारियों तथा स्थानीय निवासियों के अनुसार ऐसा मंदिर की खोज के समय से ही हो रहा है। ज्वार आने के समय चारों ओर पानी ही पानी होने के कारण मंदिर में विराजमान शिवलिंग के दर्शन नहीं किए जा सकते। ज्वार उतरने पर ही दर्शन संभव हो पाते हैं।
आज भी श्रद्धालुओं को बांटे जाते हैं पर्चे
इस बात की जानकारी के लिए यहां आने वाले श्रद्धालुओं के लिए खासतौर से पर्चे बांटे जाते हैं, जिसमें ज्वार-भाटा आने का समय लिखा होता है। ऐसा इसलिए किया जाता है, ताकि यहां आने वाले श्रद्धालुओं को परेशानियों का सामना न करना पड़े।
क्या है पौराणिक मान्यता
पुराणों के अनुसार एक बार राक्षक ताड़कासुर ने अपनी कठोर तपस्या से शिव को प्रसन्न कर लिया था। जब शिव उसके सामने प्रकट हुए तो उसने वरदान मांगा कि उसे सिर्फ शिव जी का पुत्र ही मार सकेगा और वह भी छह दिन की आयु का। भगवान शिव ने उसे यह वरदान दे दिया था।
कार्तिकेय का हुआ जन्म
वरदान मिलते ही दैत्य ताड़कासुर ने हाहाकार मचाना शुरू कर दिया। देवताओं और ऋषि-मुनियों को आतंकित कर दिया। अंत में देवतागण दुखी होकर महादेव की शरण में पहुंचे। जहां शिव ने उन्हें यकीन दिलाया की उनका पुत्र ही इस दैत्य का वध करेगा। इसके बाद शिव-शक्ति से श्वेत पर्वत के कुंड में उत्पन्न हुए कार्तिकेय के 6 मस्तिष्क, चार आंख, बारह हाथ थे। 6 दिन के पश्चात जब कार्तिकेय को पता चला कि ताड़कासुर भगवान शंकर का भक्त था, तो वे इस बात से काफी व्यथित हुए। फिर भगवान विष्णु ने कार्तिकेय से कहा कि वे वधस्थल पर शिवालय बनवा दें।
इससे उनका मन शांत होगा। भगवान कार्तिकेय ने ऐसा ही किया। फिर सभी देवताओं ने मिलकर महिसागर संगम तीर्थ पर विश्वनंदक स्तंभ की स्थापना की, जिसे आज स्तंभेश्वर तीर्थ के नाम से जाना जाता है। इसके बाद कार्तिकेय ने ही मात्र 6 दिन की आयु में ताड़कासुर का वध किया
Nishkalank Mahadev temple is located in koliyak village at Bhavnagar District of Gujarat. The temple is full of wonders and awe. This temple is buried inside the sea. On a heavy tide day, all that can be seen are the flag and a pillar. It is beyond ones comprehension that there is a Lord Shiva Temple just under the fierce sea. The temple has 5 distinct swayumbu Shiva lingams inside. In every Friday all visitors can visit Nishkalank Mahadev Mandir.You can visit this temple only two times in 24 hours.
It's truly unforgettable moment in your life if you see the morning arti in this temple. After seeing arti you find very holiness in your mind. You can see arti two times here, morning arti at 7:00 am and evening at 6:30 pm.
Actually Lord Shiva here is well-known as Nishkalan Mahadev. There an idol of Lord Shiva was situated in an island, over the sea about 2 km to the east part of Koliyak village. There is a lake which is called as Pandavas pond. Be careful about the wave here. The wave is very active during Purnima and Amavas.
You will have to wait for the wave to get back. If you wish to lord Siva pooja then you need ash, milk, curds and whole coconut. The mandir fair is started with raising a flag by the relative of Maharaja in Bhavnagar city.
Legend
The following temple story dates back to Mahabaratha era. Pandavas killed all the Kauravas and won the battle. Pandavas were grief-stricken knowing they acquired sins for killing their own relatives. In order to find redemption for their sins, Pandavas met Lord Krishna. To remove the sins, Krishna hands over a black Flag and a Black Cow. He asks the Pandavas to follow it when both Cow and flag turns white, they all will be pardoned. Krishna also advises them to do penance to Lord Shiva, after that. The angst stricken brothers followed the cow wherever it went and carried the flag. They walked for days, to different places and the color did not change. Finally, when they arrived at the Koliyak Beach, both cow and the flag color turned to white. Pandavas were exalted. And all the 5 brothers sat for deep penance, meditated on Lord Shiva.
Lord Shiva impressed by the brothers showed up in lingam form to each brother. As they meditated, each lingam appeared in front of each brother. In total there were 5 (Swayumbu) lingams that showed up on their own. Pandavas were delighted to see this and they worshiped all the five lingams with great devotion. Lord Shiva here is known as Nishkalan Mahadev. 'Nishkalank' has many meaning they are clean, pure, guiltless, to cleanse, to purify, etc. It is said that Pandavas established Nishkalank or Nakalank Mahadev on an Amavasai of the Indian calendar month of Bhadarva. The famous fair popularly known as 'Bhadarvi' is held on the no moon night in the month of Shravan (August), as per the Indian calendar. An idol of Lord Shiva was established in an island, over the sea about 3 km to the east of Koliyak. Each lingam has a Nandhi facing it. The lingams are spread across a square Platform. There is a pond called Pandavas pond and devotees' first wash their hands and legs and only when they visit the Lord Shivas shrines.
Nishkalank Mahadev Temple is one of the rarest of rare temples. The sea everyday withdraws, paving way for the devotees to offer their prayers. This temple is located in the middle of the sea, and devotees' young and old alike walk all the way to reach this temple. The water just around the temple pave the way, and this is a rare sight. And after 7 pm, the temple is again covered under the fierce tide.
How to Reach Nishkalank Mahadev Temple:-
By Air: the Ahmedabad city distance is 196 km.
By Rail: The Bhavnagar city Railway station is 22 km.
By Road: Well-known bus stops are situated at the koliyak village and Bhavnagar city.
See this Video about Nishkalank Mahadev Temple,